"Authentic Experiences … Let Trekking Collective take you on a personal journey through Lanna, Northern Thailand………"™
| | |
| --- | --- |
| | Chaiyan and Caroline welcome you to the many varied indigenous hill tribes and lowland cultures with stunning landscapes that still is the ancient Lanna Kingdom. Based in the northern capital of Chiang Mai, started in 1988 as an independent family tour store Travel Local with Trekking Collective  noted as a pioneer in small scale travel local – within  Communities  with their unique style of locally based family run tourism. Secure your travel ideas with a visit to their in town office!  Where you will meet a guest's favorite  'Kung fu' Po their Dog and join us for tea! |
More than 20 years of hands – on expertise of the Lanna region, cultural sensitivity, integrity,mutual trust and long term respect of the communities visited with an excellent safety track record gives you the confidence to book a quality authentic experience   …"A recognized best practice community based small scale independent throughout  the Region"……"One of our Mekong  Champions"

…."Integrity…small scale,slow travel in a world now full of 'fast food' mass tourism"
………………." You can 'Trace your Experience all the way to the source'
…….." Tourism with a Social Conscience!"……….Mekong Responsible Tourism
Nostalgic for a more gentler kinder world with honest " life enriching experiences" on an individual personalized basis we welcome all Individuals, Couples, Honeymooner's, 50+ good general fitness, Regional End of Business Trips, Women Travelers, Graduations Trips, Independent Solo's, GAP Young Travelers looking for a safe travelling environment, Expat Family and Friends, Special 'Train the Trainer' and Teacher Programs wishing to expand their own personal knowledge base. Special Spring and Summer Break plus '  are among the experiences with new  'Unplug from EMR and EMF and Surround Yourself in Nature and ' Mind Health Focus Treks
Concierge Service
# 1 ChiangMaiTravelLocal@IntegrityByTrekkingCollective
#ChiangMaiFoodieLoveNatureFarm

# ChiangMaiTravelLocalExperiencesCultures
#ChiangMaiFoodieEatPrayLovetoEatCityWalkingTours

 #1 LannaScenicTrails #1 FarmandFoodie
#UnplugSurroundYourselfinNature
#TrekkingCollective #PureHike #Culture #ElephantNature #AuthenticChiangMai #LocalFlavours #LocalGuides #LocalFocus #TravelLocalintheCommunity #IntegrityTours
* Early Bird Special Prices
* book email/ Mobile/ WhatsApp  + 66 0 831523621
* Individual available and 2 persons guaranteed departures to your own schedule dates* 
Quality one Day and Overnight Treks, Tours and Touring programs with options to suit every one's  interests. Exclusive trek programs from one to six days for the novice walker and the serious hiker with many tour itineraries ideal for the enjoyment of a generational family trip. Special interest and educational groups particularly ethno-cultural and  'Local Wisdom'. Rare endemic orchid, montane birds and nocturnal animal watching trips plan well in advance to request one of the many one – off tailored programs. For health motivated travellers unique ' Farm and Foodies Tours' and 'Well Being' options. All trips let you reach deeply into the essence of what is true and unique to Lanna, northern Thailand.
Big Thank-you to Guests for taking time out of your busy schedules to post organic reviews – please help us -like,share and follow in your favourite social media!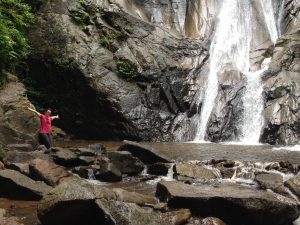 Latest Images: 2018 Alma and Serena Kuenzler -Swiss-US LannaScenicTrails
Be in balance with the people on an cultural experiences high-lighted by traditional 'Local Wisdom' experiences and indigenous hill tribe religious celebrations with welcoming overnight family homestays in Wiang Haeng, Chiang Dao, Chai Prakan and Mae Suai Communities.
Experience adventure trekking with a traditional journey by bamboo raft along scenic river routes, forest elephant trails with additional seasonal exciting white-water rafting.
Take an unforgettable journey travelling on mountain roads passing timeless Buddhist temples taking in the vivid green of rice paddi or speed along the mighty Mekong river by long-tail boat in the 'far north' of the Lanna region
Bathe with elephants in their natural environment in the hills whilst on a trip to learn about their lives with their traditional Mahout keepers, learn of their past. present and future.
Organic Rice planting and Coffee Harvesting excellent up close and personal experiences with all year round activities based around the farming calendar  at local lowland family and indigenous community run farms ask Caroline for details!
All these trips and much more awaits you on their easy to use tour and trek menu take time to look at all the unique possibilities then go to the contact us page stating your interests or 'wish list', levels of fitness, ages – if appropriate and your time frame, they will then forward to you a personalized trip plan. Alternatively contact directly with caroline@trekkingcollective.com
***view their tour & trek menu CONTACT TODAY FOR AVAILABILITY BOOKING MUST BE MADE IN ADVANCE! minimum 30 days applicable seasonally Friends or Colleagues Special rates featured.
Featured in "Perfect Holiday in Thailand" The Sunday Times, London.

Published recommendations are in the latest   www.tripadvisor.com search "Trekking Collective" www.google.com ; www.travel.yahoo.com etc.

THE ROUGH GUIDE, EYEWITNESS TRAVEL GUIDE TO THAILAND, ELPAISAGUILAR, MICHELIN GUIDE,  EXPLORING CHIANG MAI GUIDE. Featured in Adventure Travel Magazines. 'travel' Magazine- Sunday Times, London. Official website 'Mekong Responsible Tourism', ACTION ASIA and ADAC REISEMAGAZIN. Asia Horizon's latest ADVENTURE & ECOTOURISM GUIDE TO THAILAND.
"Authentic Experiences…….Let Trekking Collective take you on a personal journey through Lanna, Northern Thailand……….."™