community & environment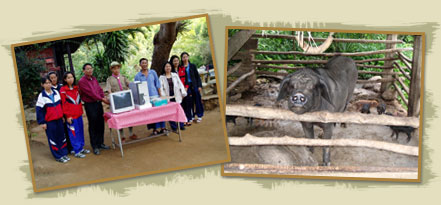 Pround to be a pioneer # 1 legally registered local trek office in Chiang Mai plus seen as long term open  [re]source for all the generations of International Schools and University Students, International and National Religious, Animal Welfare and Orphanage Foundations; Foreign Research Students as part of their degree up to Phd in 'Eco' and  'Sustainable Tourism' Global GO's NGO's NPO's and Social Enterprises that still remain in Chiang Mai and Northern Thailand today.

Ethical Practise Simply People Helping People Simple Ideas put into Actions Both Rural and Urban working along side the People since 1988.

Support clean water  build wells to Lisu and Red Lahu and Karen villages on the Myanmar border.
Sponsoring School children annually for study materials in Chiang Rai province.
Emergency rice dried foods and clothing carried to a  Karen Village in Wiang Pa Pao district after Children lost their lives, Homes, Rice Paddies and Lychee Orchards were devastated by flood. and Deforestation. Big Thanks to John Gunther Ex Director and teachers AUA Chiang Mai and everyone in the local neighborhood.
Providing pack-ponies for sustainable transportation of crops to market.
1990's Interest free micro loans
Fair Trade Rice and other local crops with the Villagers
Providing basic health and hygiene medicines for All. On going.
2001. Native Tree species and Rattan Re- Forestation program. Tree nurseries and classrooms built by the Villager's with ' living' fencing. On - going workshops for all interested Villagers.
250 Blankets and school supplies for new tribal boarding School Wiang Pa Pao.
2010.We are happy to report that this is now a successful sustainable stand alone project with a herd of more than 20 cows, The Community 'Cow and Piggy' Bank which was generously co- supported by our long time  guest and good friend since 1992 Albert  Steevoorden, http://www.albertorganiseert.nl/piggybank.htm
New born Calves and Piglets are cared for and then donated to other villager's and communities to establish new piggy banks.
2010 onwards 4 rice banks are in place addressing 'food security' in four communities.
2012UNWorld Tourism Day designed and self built Hydrogen Fuel Cells[HFC] in our vehicle reducing emmissions by min. 20% [ water vapour] and fuel bills 20% A win Win for All.
2012 January to celebrate National Children's Day we delivered new warm clothes to all  70 children at a Red Lahu Community, Wiang Haeng District on the Thai-Burma border.
School lunches for primary school kids in Chiang Rai
2017 on going affordable easy maintenance Solar Cell and Chargers for mobile phones - village emergencies within a network of communities
1988 -2020 on going support and up keep of Community Traditional Religious Grounds and Temples.
1988-2020 on going ZERO BURNING awareness protect the forests and Community well-being
HEUSP Rural to Urban Zero Burn Women Organic Farmer's Markets set up @ local Government primary and high Schools in the Old City- Buy local Everyone Healthy! Benifit Urban Poor Families.
National Children's Day and School Anniversaries 1000's of Economic Trees and traditional herbs given away to Urban Primary School Kids and Families - pledging to green the city.
Successful ' Rice Banks' for village food security as the adverse effects from global warming and climate changes play directly with the people's lives much faster than scientists and computer models have ever anticipated.
Seeding of 30,000 Baht generously donated by staff and friends for snackbar Zeeduin, Albertsteenvoorden@tiscali.nl Thank-you again. 'seed money' to establish elevated 'rice storage barns' Donations mean we can develop a rice bank 'branch' for each community,
Majority decision making by the People, Low Technology and Patience are the key!

Trekking Collective would like to personally thank all the individuals and families, especially to Mr. Albert Steenvoorden and Mr. Sheperd Mead; School groups especially Long Island Uni. USA; University of Washington faculty staff and students; Incentive groups CATHAY PACIFIC. Big Thanks to John Gunther now retired Director AUA Chiang Mai. Non - governmental organisations (NGO's) especially www.FORRU.org  C.M.U. that have given their generous support, energy and expertise to the People over the years since 1988.
PLEASE Respect the People and their cultures during your visit.
PLEASE Ask permission from a person if you wish to take their photo.
PLEASE Dress modestly at all times. Wear suitable clothing and footwear for Temple visits, Trekking, to swim, bathe and shower.
PLEASE Always remove your shoes before entering Temples and homes.
PLEASE Never touch or remove any religious icons.
IF BRINGING Gifts please give something practical i.e. Hygiene & basic first aid medicines, mosquito nets, blankets, school equipment, shoes etc.
PLEASE Do not leave behind any plastics, bottles or cans in the forest.
PLEASE Take care not to remove plant or animal life.
Community Project Latest Update
ETHICAL TRADING STORE
"Local Wisdom Trading store"™  "Connecting Communities" ™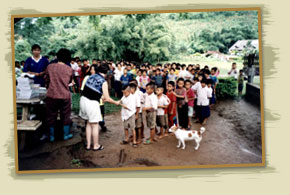 ORGANIC locally grown coffee, local varieties of rice, HERBAL teas, THAI medicines, HERBAL beauty products, MASSAGE oils, lotions and herbal poultice, HAND CRAFTED saa paper products, COTTON and HEMP products, NATURAL insect repellents.
We encourage and support sustainable grassroots community social enterprises , local and global  NGO initiatives. All products can be ordered and picked up at our offices in Chiang Mai or sent by post. Visit  the Ethical Trading Store