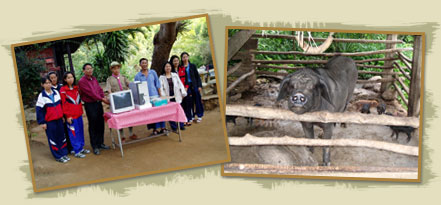 The Trekking Collective has been actively involved in many On - going Environmental and Community Programs working along side the Tribal People since 1988.
Our pleasure to support clean water supplies to Lisu and Red Lahu villages on the Myanmar border.
Sponsoring School children annually for study materials in Chiang Rai province.
Emergency rice dried foods and clothing carried to a Karen Village in Wiang Pa Pao district after Homes, Rice Paddies and Lychee Orchards were devastated by flood.
Providing pack-ponies for sustainable transportation of crops.
Interest free loans and Trading with the Villagers
Providing basic health and hygiene medicines for All.
Successful since 2001. Native Tree species Re- Forestation program. Tree nurseries and classrooms set up at Villages. On - going workshops for all interested Villagers.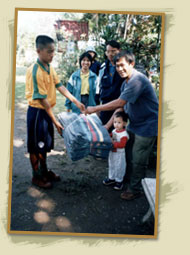 The next major task for 2005 is setting up a more sustainable way to help generate incomes at the Tribal Villages. The idea of a Community Fund namely the "Piggy Bank Fund" has been initiated and a number of piglets have been bought. More Piglets, Wild boar, Cow and Buffalo Calves still need to be purchased.

Off - spring can then be bartered for goods with the proceeds put into the "Piggy Bank" Fund for essential village use and health issues.

Majority decision making from the Tribal People and Low Technology solutions and are the key elements to all projects. If you wish to volunteer or become a sponsor contact community@trekkingcollective.com

Trekking Collective would like to personally thank again the many individuals, especially Mr. Albert Steenvoorden and Mr. Sheperd Mead; School groups especially Long Island Uni. USA; Incentive groups CATHAY PACIFIC and non - governmental organisation(NGO's) especially FORRU, C.M.U. that have given their generous support, energy and expertise to the People.
PLEASE Respect the People and their cultures during your visit.
PLEASE Ask permission from a person if you wish to take their photo.
PLEASE Dress modestly at all times. Wear suitable clothing and footwear for Temple visits, Trekking and bathing suits to swim and shower.
PLEASE Always remove your shoes before entering Temples and homes.
PLEASE Never touch or remove any religious icons.
IF BRINGING Gifts please give something practical i.e. Hygiene & basic first aid medicines, mosquito nets, blankets, school equipment etc.
PLEASE Do not leave behind any plastics, bottles or cans in the forest.
PLEASE Take care not to remove plant or animal life.
RETAIL TRADING WHOLESALE TRADING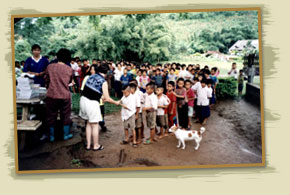 ORGANIC coffee, rice, HERBAL teas, THAI medicines, HERBAL beauty products, MASSAGE oils, lotions and herbal poultice, HAND CRAFTED saa paper products, COTTON and HEMP products, NATURAL insect repellents.

We support grassroots community programs, Internationally and locally sponsored NGO products. Organically grown products. All available at our location in Chiang Mai or by post.